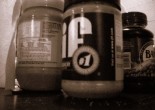 My mini-residency was titled "Recreational Aesthetics."  The public was invited to share the space and discuss issues relating to the making of art, including how one lives one's life as an artist.  Whiskey, peanut butter ...
Jul, 16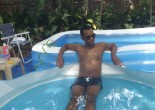 My project for the mini residency was an 8 hour public event called the Kiddie Pool Confessional. The setup featured an inflatable 10ft x 4ft pool for the public and a smaller standalone pool for ...
Jul, 16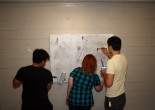 I had a wonderful time spending a 2-hour residency at Skydive Art Space through Many Mini Residency. It is definitely something unique. My project wouldn't have been successful without the people who came by and ...
Jul, 16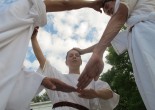 Carrie Schneider curated a Hear Our Houston tour led by the Alphas. The tour traces the historic Volwang colony in the area surrounding Skydive, including Star Pizza, the original Voltwang landing ground, mating facilities, and karaoke ...
Jul, 16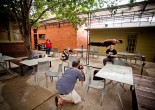 Houston, you've been "'Plank'd". Photographer & community arts advocate, Jeremy Keas, lead a day long photography workshop for Houston area creatives on Saturday, July 16, 2011.  Workshop participants were presented with the theme "planking" to ...
Jul, 16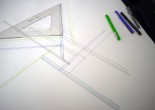 Rules: 1 Used four color 2 Lines of the same color can not cross 3 Line can not start on the same color 4 The drawling is finish when time is up or when a mark ...
Jul, 16