Is it possible for an artist residency to be adorable? Such is the case with the teeny, tiny visiting artist programs that comprise the Many Mini residency at Skydive Art Space this week.
Skydive is the program's fist landing pad in the United States following a launch in Berlin (after this week, Many Mini's heading to Copenhagen). Organizers Sarrita Hunn and Ryan Thayer were previously acquaintances with Skydive co-founder and director Sasha Dela. "She approached us about hosting one here," says Thayer, who exhibited atSkydive in the summer of 2009 (wife Hunn also showed her work in the recent Skydive exhibition, Chunks).
Continues Thayer, "We both visited Houston, and seeing that there was this really active, dynamic art scene, we thought it would be a great opportunity to use Skydive and bring local artists into the conversation." Logistically, Skydive offers a convenient bed and breakfast in its library that allows Hunn and Thayer a place to crash between their noon-to-noon shifts.
"We both visited Houston, and seeing that there was this really active, dynamic art scene, we thought it would be a great opportunity to use Skydive and bring local artists into the conversation."
A few months back, the organizers dispatched an open call to applicants of all disciplines to propose a use for Skydive's downstairs room that would host the respective residencies over the course of 24 hours for one week.
Some residencies are private, but a handful of participants have the doors open for the general public. University of Houston art and architecture librarian Tina McPherson converted her space into a salon about the role of libraries based loosely around the narrative of Alice in Wonderland. Surrounding a potluck and discussion table were enlarged photographs taken during a recent trip to build and fortify libraries in Peru.
On Tuesday, the DumpTruck collective designed, built and set conceptual and real traps to capture residents and visitors. Afterward, performance artist Matt Wolff planned and rehearsed his rendition ofMoby Dick. Capping off the night was a sleepover led by Lindsey Slavin, rife with prank calls, makeover madness and BYOB revelry.
"That slumber party got kind of crazy," Thayer says.
At 10 p.m. on Thursday, performance artist Emily Sloan (playing the role of alter ego Zarvin Mindler) will screen The Best Little Whorehouse in Texas as a tribute to the reporter who revealed the infamous La Grange brothel — the unforgettable Marvin Zindler.
Fans of Sloan's Nap Church may appreciate Rachel Hecker's agenda to convert Skydive into an ecumenical/non-denominational chapel with a painting of Jesus based on a photograph of Pink Floyd's David Gilmourserving as a centerpiece (Friday, 5:30 to 7:30 p.m.). Those with less optimistic leanings may attend "Death Star: The Conference," a performance event and research project that examines new theories of doom and their effects on society.
Many Mini closes out on Saturday with a midnight DJ set, mimosa-drenched breakfast symposium and kiddie pool confessional. Guests will also have the opportunity to collaborate with local audio walking tour extraordinaire, Carrie Schneider from 5 to 7 p.m.
Thayer reports that in its first days, Many Mini has been a ravishing success. "We've gotten an overwhelming response," he says.
Many Mini's fresh take on artist residencies is just one indicator of the changing tide of visiting artist programs. Consider the inaugural artist in residency program at 14 Pews, or Glasstire's Virtual Residency. Yet Many Mini stands out for its emphasis on diversity. In a way, the week-long parade offers a survey of what's happening in Houston at a particular moment. Remarks Thayer, "I think of it as creating a portrait of a city."
For more information on the public programs, visit ManyMini.org.
PATRONS OF THE fast-paced arts, you have less than 55 hours left to fund the hotsheet action planned for Richwood Place's Skydiveexhibition space next month. In a somewhat compressed version of the typical summertime creative retreat, the converted home at 2041 Norfolk St. will play host to a stream of 50-something artists taking up residency — each of them for only an hour or 2 or 12, though. (That should be enough: With all the chit-chatting, hobnobbing, and strategic carousing, how much would you have expected an Elaine Bradford, Rachel Hecker, or any of the dedicated nappers of the NAP Church to get done in a couple of weeks at Yaddo, anyway?) The Houston Many Mini event follows a similar project that took place in Berlin a couple of years ago (the next is scheduled for Copenhagen). Slots for the week of July 10-16th appear to be all filled, but theKickstarter project that's hoping to pay for part of the exercise is currently stuck at less than half its fundraising goal.
Photo of 2041 Norfolk St.: Skydive
---
Sunday, June 26, 2011
by Robert Boyd

photo by Shira Golding
A few days ago, I made a pitch to you, my readers, to support the Many Mini art residency at Skydive. And by "support," I meant to pledge some actual money via Kickstarter. There are four days left on this campaign, and 31 backers have pledged $1160 so far. That's an average of $37.42 per backer so far. That's pretty affordable, right? $37.42? If we can get 56 more people to donate that amount, we will meet the goal of $3250. This pays for the curators and some of the artists to travel here, their room and board while here, and all the expenses associated with the residencies.
56 generous art-lovers. That's it. I know way more than 56 people will read this post. All you need to do it go over to Kickstarter and promise $37.42.
And to make it a little easier on you… Here's the deal. For every $10 donated from now on, I will donate $1. A 10% matching fund. If you give $37, I will donate an additional $3.70. So any donation you give will have a 10% extra boost from yours truly.
Help the Many Mini do its week-long, 24-7, 50+ artist hullabaloo. Give the Many Mini $37, or $40 or $50. And I will add in an additional 10%. We just need 50-ish new donors. You can do it!
---
Tuesday, June 21, 2011
by Robert Boyd
I wrote a few weeks ago about Kickstarter campaigns in the Houston art world, and I want to update one of them. You have 9 days left to fund the Many Mini Residencies. For their final push, they've created a new video (above) that explains the whole thing.
At this point, the residents have been chosen and they have been slotted in. Remember, Many Mini is an art residency at Skydive (an earlier incarnation was done in Berlin), but instead of an artist getting space to work for a week or a month or whatever, the artists get space for a maximum of 12 hours. In the end, only Chuck Ivy applied for a full 12 hour shift (as far as I can tell). Everyone else is doing a briefer residency. The schedule is now up on the Many Mini website.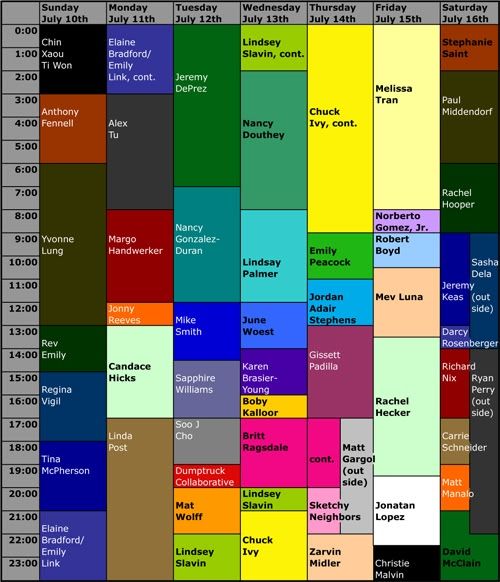 Many Mini schedule
As you can see, there are a lot of artists participating. Some of these residencies will be open to the public, but I don't think they all will. (I assume the website will clarify this soon.) Notice what's happening on Friday, July 15 at 9 am. Yep, I will be doing an hour-and-a-half residency. My plan is to write a Pan post. I may take photos and talk to some of the artists who will be there earlier in the week and write about them. But I'm keeping my options open. And yes, my residency will be open to the public, if you want to stop by and ask questions. (Skydive is on Norfolk near Star Pizza–go check it out. They are usually open every Saturday.)
Some of Houston's best artists will be there, doing their thing–including Elaine Bradford,Linda Post, Jeremy DePrez, Emily Peacock, Rachel Hecker, and many others.
There are some travel expenses for some participating artists involved, as well as some other expenses (the video and the Kickstarter site details this). Consequently, it will bevery useful to get this Kickstarter grant, which comes purely from the generosity of folks like you, my dear readers. So if you haven't done so, head on over to Kickstarter and make a pledge–no amount is too small! (But bigger donations get better premiums–just like public radio!)
---
Saturday, May 21, 2011
by Robert Boyd
Kickstarter is a platform for raising money for various artistic projects, whether non-profit or for profit. I've supported a couple of projects I like with small donations through it, but really never delved too deeply into what all is there. But this morning, I went to Kickstarter and typed the word "Houston" into the search engine to see what I'd see. Here are a few of the local projects that seemed worthy of support.
The Museum of Broken Relationships. […]
Many Mini. This is a Skydive project. You know how most residencies involve giving an artist studio space for some period of time (a month, a year, etc.). With Many Mini, that period of time for the residency is as small as 30 minutes with a maximum of 12 hours. You can get more details here. Basically what this funds is a whole bunch of artists doing stuff. And artists doing stuff is one the most exciting things there is.
These are just a few of the Kickstarter projects in Houston. I am supporting each of these in my own modest way. But there are a lot more projects there trying to raise funds. I encourage you to check them out.